following is my speech at a local council meeting which raised a few eyebrows and hopefully will go some way to prevent water fluoridation, use of fluoride toothpaste and stop the addition of fluoride in school milk.
------------------------------------------------------------
I would like to raise the issue of Fluoride.
I am submitting two points and thereafter two questions.
thank you for your time
First is to make known the completed research of Dr Elise Bassin of the Harvard School of Dental Health
1 (pdf)
which shows that Fluoride increases cancer rates in children and a quote of Richard Wiles
2
"i've spent 20 years in public health, trying to protect kids from toxic exposure. Even with DDT, you dont have the consistently strong data that the compound can cause caner as you now have with fluoride"
Secondly the work of Dr Colquhoun, former Chief Dental Officer of the Department of Health for Aukland, NZ and President of the NZ Fluoridation Society (a fervent supporter of fluoride and fluoridation) who found and made public knowledge that decayed teeth rates for 3 decades previous to the introduction of fluoride were dropping at a steady rate and continued unaffected with the introduction of fluoride
3
.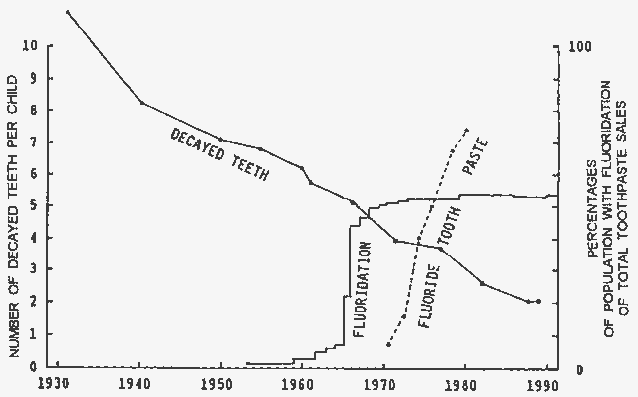 Dr Colquhoun was given a warning that these facts were not to made public. [ibid 3 ]
"They showed that in most Health Districts the percentage of children who were free of tooth decay was greater in the unfluoridated parts of the district." [ibid 3]
The reason i draw attention to these points is that on Page 14 of the "Childrens and Young Peoples Plan (second draft) "
plan
it is stated that this plan will "Implement the Oral Health Strategy". This strategy states in Appendix 2 'What works? The evidence'
7
"Epidemiological studies and independent reviews of the relevant literature have consistently failed to find evidence that fluoride in water, at or around one part per million, has any effect on the health of the body other than reducing tooth decay. Fluoride toothpaste is another effective method of delivering fluoride. The use of fluoride supplements in schools has been shown to be effective in caries prevention but regular use is unlikely to be sustained at home by those most in need."
Now since the Water Act 2003 states
"If requested in writing to do so by a relevant authority a water undertaker shall enter into arrangements with the relevant authority to increase the fluoride content of the water supplied by that undertaker to premises within the area specified in the arrangements." (Chapter 37, Part 3, Section 58 )
8
and i also quote the World Health Organisation 1994;
"The question of possible secondary effects caused by fluorides taken in optimal concentrations throughout life has been the object of thorough medical investigations which have failed to show any impairment of general health."
9
This is an incredible difference between what we are told and what the recent research is showing.
My two questions are as follows
1. Are you going to promote and encourage a known toxic substance namely Fluoride?
2. Are you going to 'Implement the Oral Health Strategy' which is based upon questionable judgement and grossly inadequate research?
Thank you